ROBERT JOBSON
Robert Jobson is one of Britain's leading royal commentators, dubbed the "Godfather of Royal Reporting" by The Wall Street Journal. He is Royal Editor of the respected London Evening Standard and regularly appears on television as a royal expert. A New York Times and Sunday Times best-selling author and award-winning correspondent, he has been at the forefront of royal reporting for a quarter of a century.
Winner of the prestigious Lonbdon Press Club "Scoop of the Year" for the world exclusive that Prince Charles and Camilla Parker Bowles were to wed in 2005 presented by Prime Minister David Cameron - Jobson has worked as a staff Royal Correspondent for several Fleet Street newspapers including The Sun and Daily Express.
He is Royal Editor of Australia's top rated morning shows, Sunrise and The Morning Show for the 7 network and New Zealand's TVNZ Breakfast One.
In the UK he is a regular on screen expert for ITV Daybreak, ITN News, Sky News, Channel 5 and the BBC. In America he is royal contributor for NBC's Today Show and co-anchored the coverage if the Royal wedding of the Duke and Duchess of Cambridge for MSNBC with Chris Jansing in 2011.The author of 8 books (please see books section), he also regularly appears in television documentaries about the British monarchy.
Jobson was previously royal expert for CNN and co-hosted the network's coverage of the funeral of Queen Elizabeth, the Queen Mother, the Queen's Golden Jubilee of 2002 and the wedding of The Princess of Wales and the Duchess of Cornwall in 2005, watched by millions globally.
An accomplished guest lecturer and regular on the public speaking circuit Jobson - a history graduate from The University of Kent at Canterbury - presents talks that give a fascinating insight into the monarchy and the media.They include lectures of the "Windsor Century" detailing the turbulent history of the House of Windsor since its creation in 1917, "The Abdication crisis of 1936", "The Princess Diana Years" and "The Media and the Monarchy."
He is a contributor to the Cunard Insights programme aboard The Queen Mary, Queen Elizabeth and Queen Victoria and has worked for educational organisations too, such has the Road Scholar programme in the US. He has also been a guest lecturer on the media and journalism undergraduate degree courses at Roehampton University and lectured at University College London.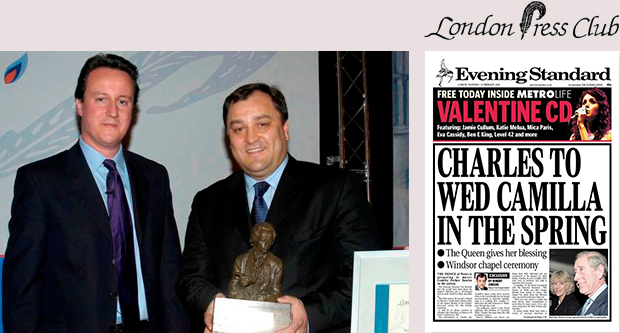 Robert being presented the Scoop of the Year by David Cameron for breaking the story that Charles and Camilla were to wed.